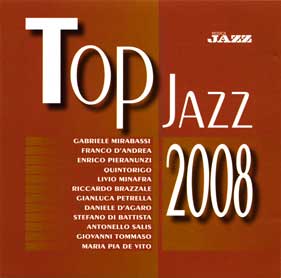 "Top Jazz 2008" – Musica Jazz


Various Artists – MJCD 1208 – (01.2009)
Lydian Sound Orchestra.
arranged and conducted by Riccardo Brazzale

With Kyle Gregory (trumpet), Roberto Rossi (trombone), Dario Duso (tuba), Rossano Emili (baritone sax, clarinet), Julian Arguelles (tenore sax), Robert Bonisolo (soprano sax), Riccardo Brazzale (piano), Michele Calgaro (guitar), Marc Abrams (bass), Mauro Beggio (batteria).


Recorded at Appleby Jazz Festival (UK) on July 27th 2007.


Includes: Bras to Africa (Riccardo Brazzale).